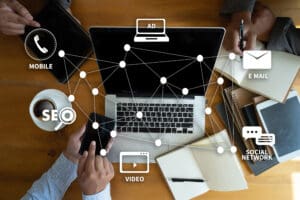 The unpredictability of 2020 required many businesses to rethink their strategies.
For some sectors, the effects of the pandemic have been devastating, while others have thrived in harmony with our new way of life. In this post, we'll be evaluating five of the most talked-about industries of 2020, and how far they are expected to grow in 2021 and beyond.
E-learning and Online Education
In a world of reduced social contact, e-learning and online education have become vital tools. Children who are privileged enough to access online classes have had to adapt to new ways of learning, while teachers have increased their awareness of creative methods to keep students engaged. Even prior to the COVID-19 outbreak, the global e-learning market was projected to skyrocket to a staggering £335 billion dollars by 2025.
Online learning has not just become central in the lives of teachers and young people, however. Online learning platforms have also risen in popularity among those at home during lockdown. Such platforms have given people the opportunity to learn a new practical skill, such as photography, animation, or music production, without the need for face-to-face lessons. Much like how employers are preparing to offer work at home options in a post-Covid world, it's expected that e-learning will largely stay with us when we return to normality.
CBD
Despite its legality in the UK and many other countries, CBD oil was once a misunderstood concept concealed in both stigma and skepticism. Short for the compound cannabidiol, CBD is praised for its therapeutic benefits including improved sleep, reduced anxiety, and its ability to reduce inflammation and chronic pain. The research surrounding the safety of CBD is certainly encouraging, and as a result consumer interest has continued to boom. By 2025, analysts predict that the global CBD market will reach $9.69 billion.
While most CBD products from retailers are sufficiently regulated, there have been instances in the past where CBD retailers have had their products incorrectly authorised. It is therefore vital that businesses selling CBD products remain transparent about what they are retailing to customers. Only recently, established CBD brand Vitality CBD announced that together with their raw material provider, they have become the first UK brand to submit their Novel Food application for 2021. In doing so, they are able to validate their product range of ingestible CBD products in time for the 31st of March 2021 Food Standards Agency (FSA) deadline. Vitality CBD's Commercial Director Phillip Glyn stated: "Vitality CBD is leading the way in future compliance and regulation.", a promising sign for what is yet to come from the CBD industry in the years ahead.
Digital Marketing
Most people can agree that they consume some form of digital media daily. Everywhere we go, advertising is all around us, including in our own pockets. Within the past 30 years, more and more businesses have begun to identify that the best channel to distribute their product or service is online. And as skilled marketers are beginning to reach larger audiences in shorter time periods, the digital marketing industry continues to evolve significantly.
Reports have shown that the market has paced at an 11% compound annual growth rate between 2016 and 2021. In 2020, the global digital marketing industry was estimated at $322.5 billion, and is projected to reach an enormous $640.2 billion by the year 2027.
Cyber security
New technologies in industries such as retail, banking, defence, manufacturing, and information technology have all added beneficial new ways of working. However, with ease of productivity has come the opportunity for cyber related threats to come to the fore, including fraud, exploits, and malware attacks.
Many businesses often underestimate the threats that lurk online, and will only take action once an attack has happened. A well orchestrated online attack can significantly harm a brand's reputation, competitive advantage, as well as their business profits. Therefore, it is crucial for business owners to be aware of the dangers of cybercrimes.
As an essential instrument in defending against online threats, the cyber security market stood at $152.21 billion in 2020, with a compound annual growth rate (CAGR) of 10.0% from 2021 to 2027.
Robotics and Automation
With each decade that passes, 21st century technology is growing rapidly. From the latest smart phone to virtual reality devices, technology has perhaps ironically become an integral part of humanity. The demand for new automatic and mechanical services is at all time high, a trend which has always been prevalent even before the crisis.
Alongside creating new job opportunities, modern robotics and automation are enhancing the way in which employers use their time and spend their money. Moreover, new inventions are serving as tools to help those with learning disabilities and physical ailments to improve their quality of life. With life-changing technologies emerging from every corner of the globe, it's difficult to downplay the influence and success of this industry. In fact, the global industrial robotics market is on forecast to grow by 63% from $44.6 billion to $73 billion within the next four years.
About the author
Jennifer Williams is a Staffordshire based copywriter with notable expertise in the travel, fitness and well-being sectors. While studying English and Journalism at Coventry University, she worked as a freelance copywriter for a variety of industries and niches.
Read more:
What are the leading industries to look out for in 2021?